http://www.phillytapfinder.com/">FOOBOOZ
  |  This page by Philadelphia Magazine provides updates on the latest news in the food and beverage industry. Check it out to discover the latest trends and happenings at local Philadelphia restaruants and bars.
http://www.roaminghunger.com/">Open Table 
 |  Makes it easy to book a table and discover guest reviews, menus, prices, and much more when looking for the right restaurant. 
http://www.phillytapfinder.com/
">
Zagat
  |  Trusted source to discover even more about Philadelphia's best spots to eat and drink!
http://www.roaminghunger.com/
">
Food Trucks
  |  Find out where the nearest food truck gathering is happening and join the locals by eating at these trendy trucks!
>Philly Tap Finder
  |  The all-you-need-to-know guide about Philadelphia's beer scene!
Visit famous South Philly Barbacoa as seen on Netflix "Chef's Table"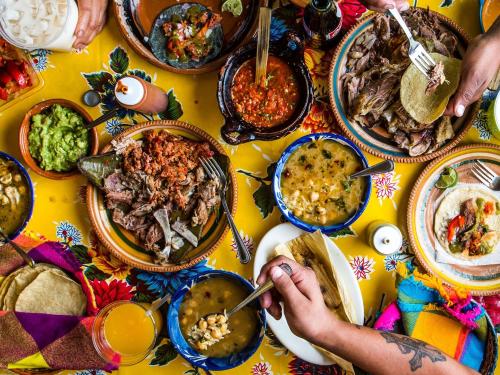 In the fifth season of the award-winning Netfilx documentary series Chef's Table, filmmaker Abigail Fuller fixes her camera on Cristina Martinez, chef and co-owner of Philadelphia's South Philly Barbacoa. The latter establishment currently holds a spot on Eater Philadelphia's map of the city's 38 essential restaurants. Martinez, an undocumented immigrant, came to the United States from Mexico as a young adult, and she opened her small restaurant with her husband, Ben Miller, in 2016. It gained national recognition almost immediately, landing on Bon Appetit's best new restaurants list for that year and later featuring in celebrity chef David Chang's Netflix series, Ugly Delicious. Now, in addition to her work serving celebrated lamb tacos, Martinez is an activist for immigrants' rights in America.
Fans say some of the "best lamb tacos in the country" can be found at this modest South Philly spot, where "friendly" husband-and-wife team Ben Miller and Cristina Martinez serve up "fantastic,... Full review
Zagat
https://philly.eater.com/2018/8/13/17683306/south-philly-barbacoa-tacos-new-address-italian-market